Glow Wellness Tour Sponsorship Deck
June 8th
Philadelphia, PA
All tickets were sold out last year in less than 2 weeks (120 women in attendance!)
"Finally a wellness event that actually speaks to the health & wellness challenges us women of color face! THANK YOU for doing your part to change the narrative. It was a pleasure attending your event today and experience what happens when our community comes together to celebrate our culture at the intersection of wellness. Congratulations on a sold-out and mega successful event!" ~ Ada Rojas @allthingsada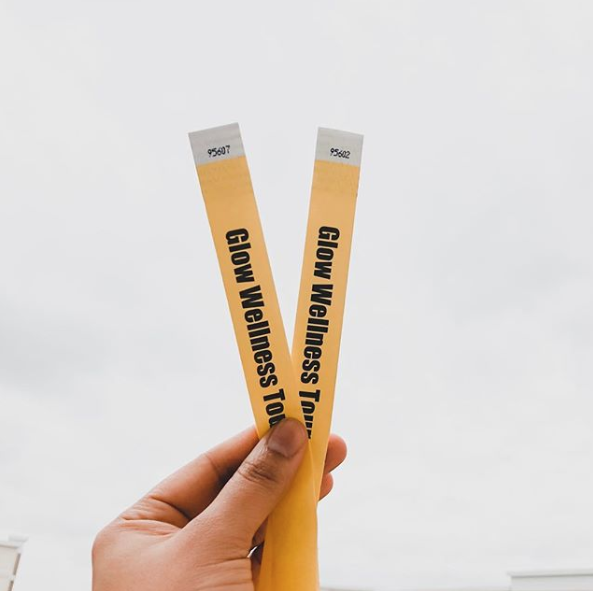 What's Glow Wellness Tour?
After attending HUNDREDS of wellness events that left me empty, like I couldn't relate, unrealistic and not at all speaking to the health & wellness challenges we face as women of color, immigrants, and what's considered "minorities", I decided to help change the narrative.

That's how Glow Wellness Tour was born. A badass wellness event that will cater to us, to our challenges and to our cultura! Get ready to get your glow on, to get in touch with our raices, our inner brujas, drink green smoothies with Latino superfoods in it, and wellness potions like our abuelas used to make + a few glasses of wine (or tequila shots!) in the process.

This wellness event will cater to Latinas + Women Of Color & any other woman that identifies with our culture, reality and specific needs. It tour several cities, through US!

This is a wellness fiesta!
#GlowWellnessTour is the go-to wellness event for Latinas & Women Of Color of any background and the only of its kind!
Latinas & Women Of Color are the new driving force behind market growth!
Latinas and Women Of Color are increasing health awareness for both themselves and their families, making them more conscientious about weight, preventative health measures, mental health and personal care. Therefore, their most important search topics are family, personal health, and well-being. This is the ONLY health & Wellness event of its nature and approach, to cater specifically to this demographic.

Many Latinas today rank health, wellness & nutrition as a primary concern. One- third of Latinas are trying to lose weight by dieting, one-third look for organic or natural products and a quarter is counting calories. These levels are equal to or higher than the total U.S. female population and it is important to understand the changing needs of today's progressive Latina. (Latinas Power Shift, Nielsen Report*).
"I cannot even begin to put into words what this event has done for me. To be in a room full of women that looked like me, spoke like me & endured all the same hurdles as I, was not only comforting, but motivating. Motivation to make a change. To encourage more Women of Color and Latinx's to speak out and promote change for our physical, mental and spiritual wellness. I connected with so many amazing women, and got to experience the energy these amazing panelists posses." ~ @adrienneeej_
Latinas & Women Of Color from diverse backgrounds!
- Culturally diverse, professionals, socially engaged and upwardly mobile
- 21 to 45 age average
- Head of families, and or influential within their family, network or community
- Health conscious, OR decided to improve their health & wellness
Crushing on the gorgeous @candycalderon_ who created the beautiful #GlowWellnessTour and the amazing set of dope Latinas who experienced it. 🙌🏽✨ So honored and proud to be apart of a conversation much needed in the Latinx community. From bruja magic, vegan-lifestyle, to mental health and more — this event was magical. Can't wait to see what's next! @ashestogoodvibes
Media Buzz
GET READY TO RECEIVE OUTSTANDING COVERAGE, BRAND AWARENESS & INFLUENCERS SHOUT OUTS!
This event will generate AMAZING media buzz, drawing an abundance of both traditional and online media.

Glow Wellness Tour founder, is a frequent collaborator for several Hispanic media networks like Univision, Telemundo, People En Espanol, NBC Latino, Latina Magazine, among others that always support and provide coverage for her event and its sponsoring brands.

In addition, the event will leverage its 15+ speakers and presenter's platforms to create buzz + the founder's personal platform and network of influencer peers supporting the event that will add 300K+ people reach in the digital space, as well as offline.

If you're a media outlet, ask us about MEDIA PARTNERSHIP!
Sponsorship Opportunities
The levels presented here are for our Philadelphia stop, this June 8th. However, we are also open to create a more comprehensive sponsorship package for our 3 stops this year (Philly - NY - Miami).
Our sponsorship opportunities are carefully created to adapt to your needs while engaging attendees through unforgettable experiences that speak to them, their culture, and their specific needs so they can relate!

Showcase your products & services, connect with strategic influencers and audience, generate new leads.
ROI:
• Lead Generation
• Brand Awareness
• List Building
• Sell Products and Services
• Industry Recognition
• Exposure to 120+ Latinas & Women Of Color per city (and more due to our extensive outreach)
Individual proposals to be brainstormed and created upon request!
Levels
Included in all levels:
Brand logo and link on glowwellnesstour.com website

Logo and link inclusion (non-exclusive) in a minimum of one email blast to Glow Wellness Tour + founders newsletter network of 1,500+ subscribers

Promotion pre, and during conference via Glow Wellness Tour social channels (except for gift bag-only sponsorships)
Got Questions?
Reach out to us!
info@candycalderon.com